Millennial Services is one of the nation's leading call center providers. We provide both inbound and outbound call services for businesses of all types. We love working with clients of all kinds to provide the right call services for their individual needs. Millennial also works to best represent your business to your customers with amazing customer service. We train each of our call service representatives with the latest information on call center outsourcing. Furthermore, we employ the latest technology on the market in call services for all of your needs. You can learn more about Millennial Services on our website. Here are just three of the many reasons you should consider hiring Millennial Services today.
Call Center Services with Trained Industry-Leading Professionals 
One of the greatest reasons to consider hiring Millennial Services is because of our amazing team of call center representatives. At Millennial, we only hire industry-leading professionals in call center services. We also offer training to our call center team with ongoing refresher courses as new technology, systems, and professional resources develop. 
Our aim at Millennial Services is to always work with our clients and put their needs first. As part of our mission, we take great pride in working with our team during training sessions so that they can best represent your business. By working with your customer directly, it is our goal to handle all calls just as you yourself would if you had the time. With continued education and ongoing training, we can guarantee you excellent customer service in your own business voice every time. 
A Wide Range of Services at Millennial Services
Millennial Services also provides a wide range of services from inbound calls to outbound calls. Inbound calls are the calls that come into your business from customers such as inquiries, complaints, follow-ups, questions, and troubleshooting phone calls. We can handle each of these calls with fast, reliable, and polite service. However, we don't limit our service to inbound calls. We also provide follow-up call services in outbound call center services. Using trained professionals, we are able to help your business with all of your call needs and even work to improve your business model. 
Our comprehensive call center services can help your business improve in multiple ways. For example, by using analytic data collection from every call we conduct, we can help your business learn what issues might need more attention, such as customer support or scheduling appointments. These helpful insights are a great way to learn more about your customers' needs as well as simple ways to improve your own operations.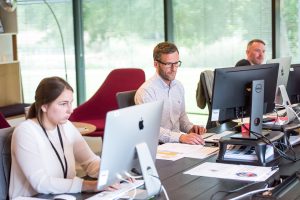 Services Set at an Affordable Price Point 
The third reason to consider hiring Millennial Services is to save yourself some cash. The average receptionist position costs employers around $30,000-$40,000 a year in base salary. That doesn't include PTO, Holiday or Sick Pay, or other benefits you might offer your employees. In contrast, hiring a call center service team comes with amazing service off-site at a fraction of the cost. And unlike other call center companies, Millennial Services does not charge upcharges for each service we provide. Instead, we work with our clients to create a personal service plan that covers all of their needs. Furthermore, we make it simple to add on services or remove services as your business model shifts over time. Ask one of our friendly representatives about how we can best serve your business with our affordable and comprehensive call center services. 
Why Choose Call Center Services?
There are many reasons to consider call center services. The first is to save yourself money on hiring extra staff or trying to do it all yourself. This can also reduce your overall stress and allow you more time to manage other aspects of running your business. Finally, you can improve your business model by using data collected by your call center team. Plus, working with an industry-leading team of experts at Millennial Services is a rewarding experience in and of itself. We utilize your business voice, style, and mission statement when handling calls for your operations. Want more reasons to work with Millennial Services? Explore our website to see all we have to offer. 
Call Center Outsourcing with Millennial Services
When it comes to call center services, the choice to work with a team you can count on is important. That's where we are happy to enter the picture at Millennial Services. Our call center services team is eager to help you with all of your call needs at an affordable price. Learn more about how we can help on our website today or by giving us a quick phone call.